Before I get to the main point of the post, before I am sure to loose a few blogger readers (read it once, read it 100times etc), I just have a quick comment about H&M. Or rather Hennes & Mauritz, the brands actual name. Who knew? Anyway its kinda slacking. Not in design, half my wardrobe and more is H&M. But quality? Primark's items are lasting longer with me lately! Honestly, two jumpers, one skirt and a few more items down, all with holes in. Its not good.
If any other bloggers can admit they haven't heard of Maison Martin Margiela- I AM PROUD OF YOU. I know I hadn't and it would be great to find out I wasn't the only one. So on seeing the adverts I got excited, as some of the clothing looked pretty crazy but fun. So I googled them. For those who don't know t

he brand heres a little info.
"

Maison Martin Margiela, was originally established by Belgium born designer Martin Margiela in 1988. This was after he had worked for Jean Paul Gaultier (the guy who does the AMAZING Diet Coke bottles); then being promoted to the creative director of the Hermes womens line (they specialize in scarves, remember the Devil Wears Prada?). The Maison Martin Margiela brand uses some of the most simple designs with a twist, being both current and fun as well as classic. Sadly the man himself, Martin Margiela resigned as creative director in 2009. Since then, the fashion house publicly named a new creative director, but they still remain true to Margiela's quirkiness.

"
So anyway if you follow me on twitter, or have my actual facebook (going to make a blog page for it soon!), you will know how crazy I went over their range for H&M them the other day. Seriously.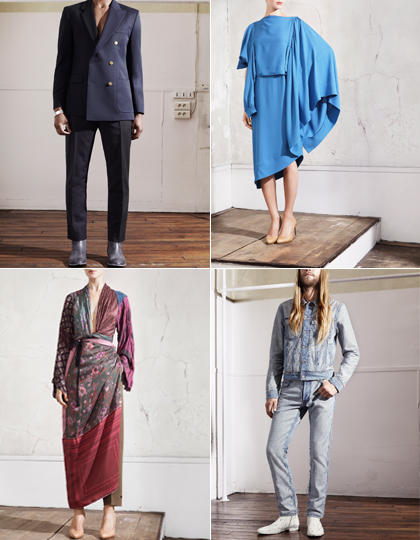 Faceless watch, sweet-wrapper bag, and perspex heels anyone? Love them ones,as well as the black two sides dress. Can't see me wearing that one in Essex though, bit too 'out there'.
So here's my early morning fashion story. I knew I 100% wanted the leotard/bodysuit. The weird one, skin colored with the added addition of a black bra on it. Just to be confusing. (FYI its from the brands Spring/Summer 2007 collection), Check it out
here
!
Woke up early, when I was due in college late (DEDICATION!). Went to the H&M website, and then sat for half an hour waiting for the collection to go online. 9:00am happened And I was staring at a screen saying 'coming soon'. Sat another 20mins. Then tried clicking on something. Panicked, but then it eventually worked! Selected my size, added to basket, went to checkout. AND THEN THE SITE WENT DOWN FOR MAINTENANCE. you what? Honestly, was close to breaking down here. Got ready for college etc, and when I came back to the laptop it was back online, and my bodysuit was in the basket still. 10mins and £29.99 later, I was on my way to college.
Hallelujah
.
In the spirit of early christmas (you know, songs on the radio, the adverts in November etc) instead of love-
I SEND YOU MY MERRY LOVE AND HAPPY KISSES.
(Love)